Lohmann at the Münz Company Run 2020: "We keep running!
Last year at the Münz Company Run in Koblenz, around 15.000 runners sweated in midsummer temperatures – and then celebrated together in a great atmosphere next to the Rhine.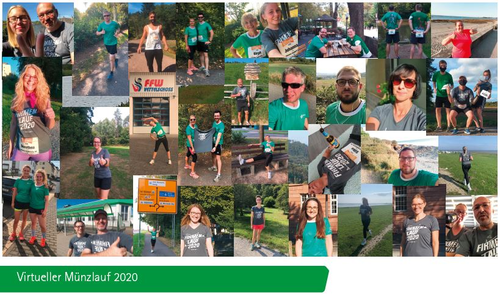 Lohmann, too, has been an integral part of this popular event for many years, and since 2003 it has been impossible to imagine the region without it. Companies actively promote the participation of their employees and thus their team spirit – many bosses run along themselves!
In 2020, the organizers were faced with the restrictions imposed by the Corona pandemic – and decided on a virtual alternative to running under the motto "We keep running!". Between September 11th and 15th, the participants were able to run a 5km distance on their own – at a place of their choice! The time was then uploaded online.
A total of 2.535 participants took advantage of this opportunity, and the Lohmann team did not miss this opportunity either. With 81 runners, the Bonding Engineers made up the seventh largest team out of a total of 585 registered groups.
Although there was no social gathering in the Lohmann tent at the end of the run, the virtual Münz Company Run for the first time gave other Lohmann locations the opportunity to participate, including colleagues from Lohmann-koester in Altendorf. The independence of location led to varied running routes along the North Sea, the Mecklenburg Lake District, Brittany or South Tyrol – the latter at a remarkable 1.800 meters above sea level.
"The Münz Company Run 2020 was a complete success – we are already looking forward to next year and hope that a virtual option will continue to be offered so that the Lohmann team will continue to grow", team captain Torsten Michalsky (Marketing Lohmann) is pleased to report.