Green Innovations: Lohmann at the "22nd China Adhesive and Tape Annual Conference"
From September 15-17, the China Adhesives and Tape Industry Association (CATIA) hosted the "22nd China Adhesive and Tape Annual Conference" in Shanghai.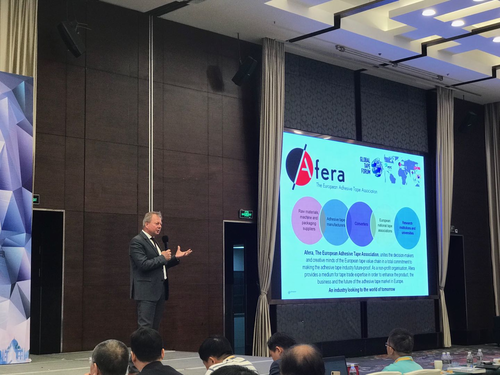 While being focused on domestic developments and technological progress in China, the event served as a platform for communication and collaboration of the global adhesives and tape industry. More than 900 attendees consisting of representatives of manufacturing companies, raw material suppliers, scientific research institutes as well as engineers, technicians and distributors had the opportunity to hear 75 expert reports from various professionals of the field.
The developments on the Chinese adhesives and tape market manifested themselves in a growing industry, a continuous introduction of new environmental policies and an overall "green" development (modified, water-based adhesives, new hot melt adhesive products). "Chiming in" were companies like Covestro, WACKER or Sika Technology Co. Ltd. who all presented their own but very similar experiences and goals in and for their processes and products.
Sharing the European perspective in front of the almost 1000 listeners, Dr. Evert Smit, Head of R & D at Lohmann, and President of Afera (European Adhesive Tape Association) held a presentation titled "The future of bonding with tapes: the European view. New directions using responsible technologies "Made in Germany" – since 168 years!" He was joined by Fred Fan, General Manager Lohmann China. Together, they did not only introduce Lohmann, its history and various reactive chemistry solutions for structural bonding tapes but also gave insights into European environmental guidelines and industry-internal ecological seals (e.g. "Blauer Engel"), circular economies and various applications for Lohmann tapes like vapor barrier tape or photovoltaic framing.
"Co-operation is one of the most important factors driving our industry. As President of Afera, I am striving to get closer to our international sister organizations – such as CATIA. This conference is a great step in doing so and I am very proud I was invited to represent Lohmann, as a company, but the Afera, as an European organization, as well."