Making diagnostics wearable: Lohmann @ Healthcare Sensor Innovations 2019
On September 25 and 26, the Healthcare Sensor Innovations conference and exhibition will take place in Cambridge, United Kingdom.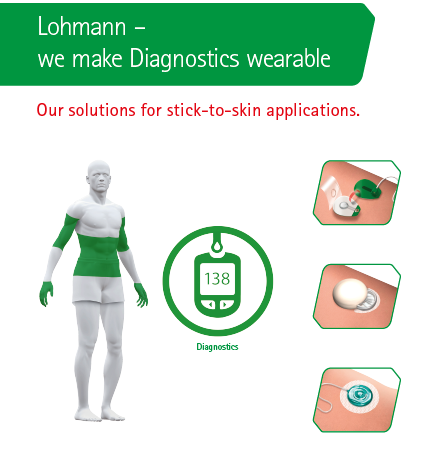 The two-day event focuses on technologies and applications of wearables and sensors in continuous monitoring of patients as well as point-of-care diagnostics.
Healthcare Sensor Innovations provides a forum for the pharmaceutical, medical device, materials and electronics industries as well as a podium for 30 speakers from precisely these sectors, enabling them to introduce their specialties in or unique angles on this field. Various masterclasses, sessions and presentations will cover topics such as electronic skin patches in remote patient monitoring, connected medical devices and digital health, biosensors and gas sensors for point-of-care diagnostics as well as how medical wearables and sensors are driving digital health and disrupting traditional healthcare.
To a qualified audience of approximately 200 attendees, either developing or utilizing wearable healthcare solutions in this niche field, Lohmann will present its industry solutions. For that, the Bonding Engineers are not only among the ten table-top exhibitors but will give a presentation as well: Dr. Lourdes Pastor-Perez, Research & Development, will shed light on the way Lohmann is "making diagnostics wearable".
In fact, Lohmann has been making diagnostics wearable for a long time. Looking back on a history of over 165 years, the company has been reliably providing the medical sector with customized bonding solutions, high-tech die-cuts and innovations for diagnostics, wound care, surgery, ostomy or electrodes.
"Continuous monitoring and point-of-care diagnostics have shown significant and sustained growth in the medical market over recent years with new applications and products being developed continuously", says Daniel Eng, Market Manager at Lohmann. "Thus, the Healthcare Sensor Innovations is a great opportunity for us to present Lohmann's range of solutions and technologies – after all, especially for our customers and partners in the medical sector, we mostly provide customized products."
The Bonding Engineers are looking forward to meeting their fellow industry partners and customers at the Healthcare Sensor Innovations.