Silver Certification: AOK Bavaria honors Lohmann-koester for being a "Healthy Company"
– Lohmann-koester GmbH & Co. KG, one of the world's leading manufacturers of self-adhesive and mechanical closure systems for baby diapers and incontinence briefs, received the certificate "Healthy Company" issued by health insurance company AOK Bavaria in November 2019.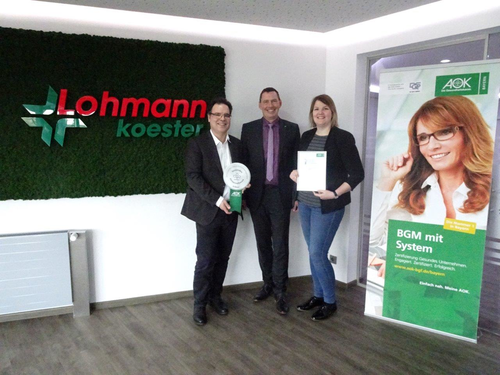 According to a nationally uniform quality standard, a silver certification was attained.
Lohmann-koester is the very first company in the county and district-free city of Bamberg that achieved the silver standard "Healthy Company" due to its excellent health management. By means of this award a systematic and continuous process of improvement concerning occupational health is meant to be initiated.
The certification is conducted by AOK Bavaria. The health insurance company enables companies in Bavaria to be independently assessed in regards to their corporate health management. Depending on the engagement the certification can attain a bronze, silver or gold standard. There are seven categories that are on trial: implementation of corporate health and social management corporate policy, systematic realization, supporting health and health potentials, employee participation, personnel management, reporting and occupational safety.
"A company has to score in many of these categories to finally get successfully certified. Such a certificate is not simply gifted to an employer, it has to be earned by means of sustainable health management", explains Uwe Leidinger, Upper Franconian coordinator for corporate health management at AOK Bavaria in the course of presenting the certificate.
Today, companies do not only face the challenge of increasing medical expenses but they also have to distinguish themselves competing for the best employees. Corporate health management is an important feature of a responsible and sustainable corporate culture and is thus becoming more and more of a competitive factor. Since 2006, Lohmann-koester has been working closely with the AOK directorate in Bamberg. Today, the corporate health management at Lohmann-koester is firmly established within the management processes and has become indispensable. In addition to the regular instructions regarding occupational safety, there are various options in cooperation with AOK Bavaria such as workshops on "ergonomics at the workplace", back trainings, running groups or health monitoring. After an analysis of requirements, all measures are implemented into the operational structures, followed up and continuously enhanced.
For this outstanding engagement, Lohmann-koester has now been awarded the silver certificate "Healthy Company". Klaus Knorr, Director of AOK directorate Bamberg, presented the executive board with the document on February 12, 2020. "I hope that other employers will follow your example", said Knorr.
CEO Stefan Hofmann is very pleased with this commendation: "I think it is particularly great that the health offers are met with high participation of our employees." He promised Lohmann-koester will again undergo a "Healthy Company" audit in two years' time, once the certificate expires.